Horse Valentine's Day Gifts and Cards for All Ages
Do you have a horse lover on your Valentine's Day gift list? Know a horse crazy kid that wants horse themed Valentine's Day cards? If you answered yes to one or all of the above, you have come to the right place. Featured below is a great selection of Horse Themed Valentine's Day cards, gifts and Free coloring pages and clip art. Take a look below to find just what you need for that special Valentine.
Horse and Pony Valentine's Day Cards
Take a look at this unique and hard to find collection of Valentines for kids, perfect for handing out at school. You will also find a great selection of, one of a kind, greeting cards. These are a must have for any horse themed Valentine's Day!
Classroom Sharing Cards for Kids
32 Hold Your Horses Valentine Classroom Sharing Cards
My Little Pony Valentines Day Cards Deluxe Set (34 Valentines with Glitter Stickers)
Greeting Cards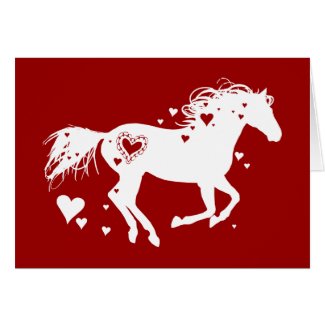 Jewelry ~ Horses and Hearts
If you want to give your favorite horse lover a special Valentine's Day gift there is nothing better than horse themed jewelry. It is a gift that keeps on giving all through the year. Take a look at this special collection of Horses and Hearts Jewelry for all ages.