Everything Horse and Pony
Thursday, November 24, 2016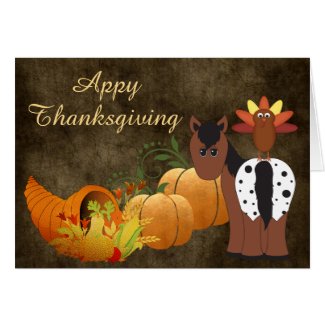 Appy Thanksgiving Appaloosa and Turkey Horse Card
H-Appy Thanksgiving to all of you wonderful horse lovers!!!
Posted by

Michelle HorseAndPony
at 10:47 AM
0 comments


Labels: appaloosa, appy, Blanket, Card, Cornucopia, Cute, Golden, Holidays, Horse, Pumpkins, Thanksgiving, Turkey, Warm, Western
Monday, September 12, 2016
This collection of My Little Pony Costumes and Accessories is perfect for your favorite little pony lover. They are a great choice for the upcoming Halloween holiday season and are fun for dressing up for playtime. This selection includes complete costumes, hoodies, shoes and tote bags that would be perfect as trick-or-treat bags. Take a look below to find just what you need...
Costumes
Let's get started with Pinkie Pie. No matter who your favorite pony is you gotta love Pinkie Pie and her costume collection is adorable. First let's look at a her full costume set...
This super cute costume includes a glitter tunic, leggings, a detachable tail and a headband with pony ears. It is available in three different sizes ranging from 3T to 8.
And now for Rainbow Dash. I love almost all of the ponies but Rainbow Dash is my all time favorite...
This classic costume set includes a glitter tunic, leggings, a detachable tail and a headband with pony ears. It is available in three different sizes ranging from 3T to 8.
This Twilight Sparkle costume is super sparkly and has a pretty tutu, wings and headband. It is available in a few different sizes from 3T to 8.

Shoes
Any shoes that match in color are a cute choice for My Little Pony costumes. However, if you want a little more MLP to your costume take a look at these themed slippers and shoes.
Any pink shoes would look adorable but for a complete look Pinkie Pie has her own costume slippers. Of course Pinkie Pie has fun sparking pink slippers with party balloons. They are one size like most costume slippers.
These adorable sneakers feature Rainbow Dash on one side and a collage of ponies on the other. This design makes them a perfect choice for a Rainbow Dash or any other My Little Pony costume. Another great thing about this sneaker is they are perfect for everyday use.


Hoodies
These adorable hoodies are perfect for a cover up with out ruining the costume and can be used for everyday wear. These hoodies are my favorite costume accessory for all ponies and Pinkie Pie's hoodie is just so cute it will make everyone smile...
This hoodie is available in many different sizes and there is also an option to get a matching t-shirt.
This fun Rainbow Dash hoodie is available in two different styles. It also has a matching T-Shirt option as well.
This pretty Twilight Sparkle Hoodie is also available with a matching T-Shirt.
Trick-or-Treat Tote Bags
Last but not least are a few totes perfect for collecting candy and are great for everyday use after the candy is gone.
Posted by

Michelle HorseAndPony
at 4:23 PM
0 comments


Labels: Accessories, Bags, costumes, Dress Up, Halloween, Holidays, Hoodies, My Little Ponies, My Little Pony, Play, Ponies, pony, Shoes, Tote Bags, Trick or Treat
Wednesday, February 10, 2016
Cake Supplies for Your Horse Themed Party
Add a little more horse to your party with a themed cake. There are supplies for both baking shaped cakes and decorating. Take a look below to find a great selection of cake supplies for horse lovers of all ages. You will find cake pans, toppers, edible images, candles and other fun decor. Horse and pony themed cakes are great for celebrating birthdays, a first riding lesson, horse show, a first horse , baby showers or any other special occasion.
Wilton Pony Cake Pan
Wilton Party Pony Pan
Use the adorable pony cake pan to make all your little horse lover's dreams come true. You can decorate it to be pretty in pink or make it the perfect cowboy pony cake. Each aluminum Wilton cake pan includes decorating ideas and instructions.
Cake Topper Sets
There are a few different sets available allowing you to create your own unique scene. Take a look....
I have used this set for my daughter's birthday cake. This set includes 3 horses and 3 fence pieces. You can create your own scene of just add them to any ready made bakery cake.
Decopac Horses DecoSet Cake Topper
This is another set that I used for my daughter's birthday. There are two cute horse figures and a fence.
This pretty set includes one pony topper with movable limbs and a raffia tail and fence cake wrap.

Toy Figures
Correctly sized model horses make excellent cake toppers. You will be able to create any scene you want and they are easy to clean and ready for play or collectible decorations. Our favorite toy toppers are
Breyer Stablemates
. They are the perfect size and beautifully detailed.
Breyer Stablemates Horse Gift Collection
Birthday Candles
These candles can be use with the above decorations but are a special addition on their own.
This is a great birthday candle for any age but with the mare and foal it is perfect for a first birthday.
NOTE: Rocking Horse Below Available in Pink and Blue ~ Select Image or Link Below to Choose Color
Rocking Horse Birthday Party Smokeless Candle (Horse Blue or Pink)
This rocking horse is perfect for first birthdays and young children. It is available in both blue and pink. Just select image or link above and then choose your color.
Party Supplies
If you need a few special decorations, favors or table ware take a look at
Horse and Pony Birthday Party Supplies
for all the latest and greatest themes.
Posted by

Michelle HorseAndPony
at 10:00 AM
0 comments


Labels: baby shower, Birthday, Birthdays, Cake, Cakes, Candles, celebrations, Decorations, First, Horse, Horses, Pan, Party, Ponies, pony, Supplies, Toppers, toys